The GSK Award for Research Excellence is one of the most prestigious awards available to the Australian medical research community. It has been awarded since 1980 to recognise outstanding achievements in medical research and facilitates career development with potential importance to human health and Australian research.
It was first presented as the Wellcome Australia Medal and then as the Glaxo-Wellcome Medal before receiving its current name.
We are delighted to support the Australian health research community with the GSK Award for Research Excellence (ARE).
This year's nominations have now closed! We look forward to announcing our 2023 GSK ARE winner at the Research Australia Health and Medical Research Awards.
Genetic research into the behaviour of cancerous cells wins leading Australian scientist the 2022 GSK Award for Research Excellence
Breast cancer is the most common cancer affecting Australian women, with approximately 57 people diagnosed every day in 2022. 1 The incidence rate of breast cancer in Australia is increasing,1  but advancements in cancer genetics offer hope for tailored solutions when it comes to prevention and treatment.
The efforts of a leading Australian geneticist have been instrumental for developing methods of personalised risk prediction, accelerating cancer research not just in Australia, but worldwide.
Professor Georgia Chenevix-Trench, a Distinguished Scientist at The QIMR Berghofer Medical Research Institute, has been awarded the prestigious 2022 GSK Awards for Research Excellence. The award recognises Georgia for decades of global leadership and innovative research in the genetics of breast, ovarian and other cancers.
Professor Chenevix-Trench says that understanding the biology behind the genomes of cancer cells is key in improving patient outcomes. 
The genome contains all the essential information needed for a cell to function and develop.2 When abnormal changes occur to the genome of cells in the body, this can trigger the development of cancer.3 Understanding genomes and how they relate to cancer is essential for developing preventive solutions.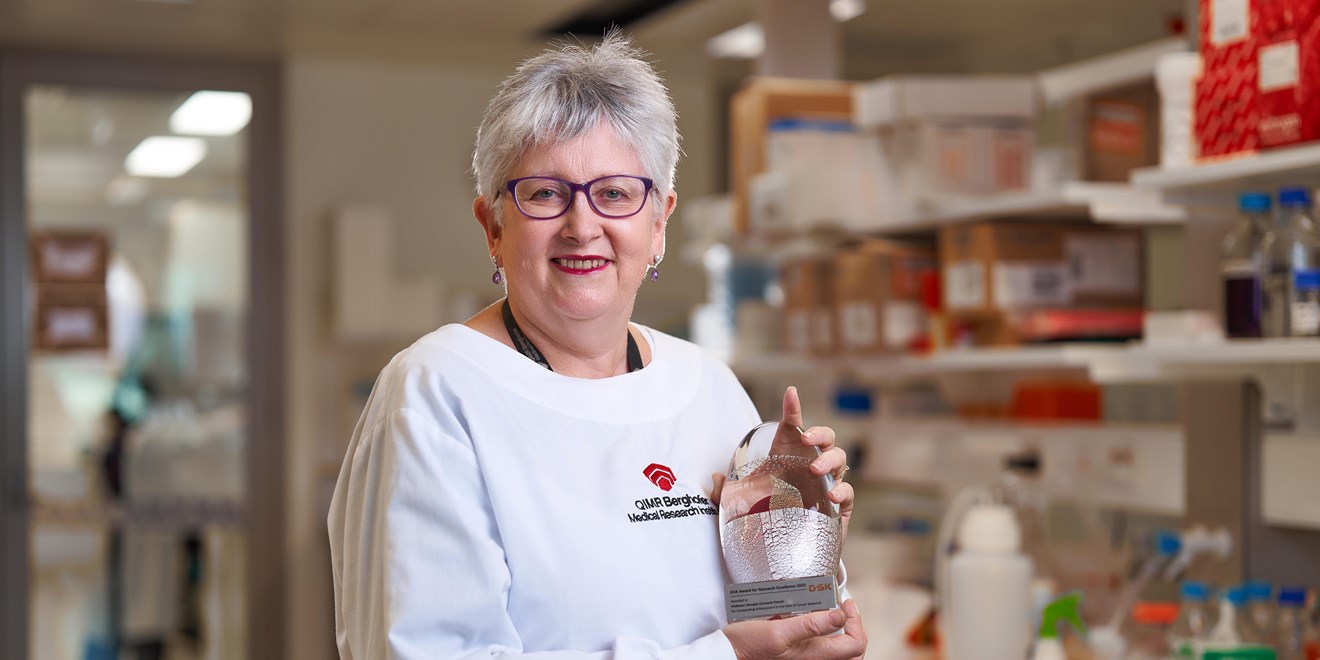 "I've had an interest in helping those affected by hereditary cancers my entire life," says Professor Chenevix-Trench. "Over the last five years, my focus has centred around understanding how genetic variants behave as a determining factor for developing breast cancer. Unless we know how these genomes operate in relation to cancerous cells, we won't be able to translate the knowledge we have gained into tangible treatment options and preventative solutions for patients."   
Over the last fifteen years, Professor Chenevix-Trench and her team have made an astonishing progress in identifying genetic variants that can affect a person's risk of developing breast cancer. The 240 genetic variants that have been discovered by Georgia and her team commonly occur within the general population and differ from the rare mutations previously linked to breast cancer.4
With each genome region consisting of multiple genes, the next major priority for Professor Chenevix-Trench and her team is to identify which of these genes are present in human cancers.
Professor Chenevix-Trench says the $100,000 AUD grant that comes with the GSK Award for Research Excellence will be used to purchase a new piece of equipment that enables real-time cell analysis.
"We're currently undertaking research that looks at how certain genes influence the way cancerous cells or tumours are destroyed by the immune system. This is very exciting work. By gaining access to the new instrument, we will be able to accelerate our work and expand our insights into the behaviour of cancerous cells," says Professor Chenevix-Trench.
An industry recognition of Georgia's and her team research has also been welcomed by patient advocacy groups, like Pink Hope, who support people to manage and reduce their risk of genetic cancers, particularly breast and ovarian cancer.
"Being diagnosed with hereditary breast cancer at the age of 29, I understand the importance of having genetic cancer testing available to those at risk. The diagnosis turned my life in a new direction. Thanks to Georgia's and her team research, perhaps my kids and other families won't have to go through what I did," says Sarah Powell, CEO of Pink Hope.
"I am fascinated by Georgia's ground-breaking research and the potential solutions it offers to all of us. We are one step closer to changing the way cancer is prevented and treated."
The 2022 GSK Award for Research Excellence (ARE) was presented to Professor Chenevix-Trench at Research Australia's Health and Medical Research Awards 2022 in Melbourne.
References
Breast Cancer Network Australia. 2022. Understanding breast cancer. Available at: https://www.bcna.org.au/understanding-breast-cancer/

National Human Genome Research Institute. About Genomics. Updated 10 May 2022. Available at

https://www.genome.gov/genetics-glossary/Genome

Stratton, M., Campbell, P. & Futreal, P. The cancer genome. Nature 458, 719–724 (2009). https://doi.org/10.1038/nature07943

Fachal, L. et al. 2020. Fine-mapping of 150 breast cancer risk regions identifies 191 likely target genes. Nature Genetics, 52(1), pp. 56–73. Available at:

https://doi.org/10.1038/s41588-019-0537-1

.